The Summer of Sonic Cosplay Contest!
Wednesday, July 22nd, 2009, 1:32 am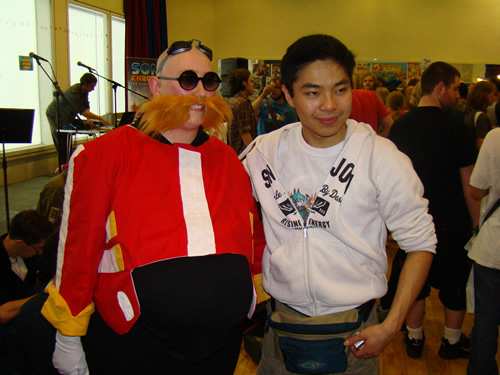 Last year, we were surprised to find that so many people were already taking the opportunity to cosplay at the very first Summer of Sonic convention! We gave away a Nintendo DS prize to CloudChaser, who very bravely shaved her head and dressed as Dr. Eggman for the special day.
Noticing a good thing when we see one, we're going to hold a proper Sonic Cosplay contest at this year's convention. There will be a special prize going to the best costume as chosen by SoS staff and the crowd in general, so start creating your costume as soon as possible and try to be the best! You'll likely find that the winner will be the one who is most imaginitive with their cosplay (I doubt that anyone will be able to truly 'be' Sonic the Hedgehog, lest they steal one of the suits at Sega somewhere!), so get creative!
Late in the afternoon, we will be hosting an event at the Stage area with a selection of cosplay finalists, at which point the audience will cast a vote as to their favourite! We hope you'll be game enough to take part in this fun contest!
In other news, we have opened up a new information page – 'What'll Be There'. This is a page that will inform you of exactly what you can expect at the convention this year — although we've not announced everything yet…….. so bear in mind that page is subject to change. Multiple times. Enjoy!
~ Svend