Thursday, August 27th, 2009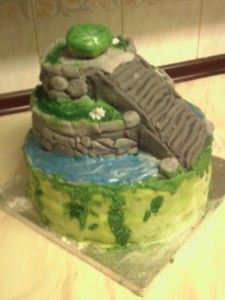 Last year's Summer of Sonic featured a cake that was painstakingly baked and decorated by Jemnezmy, of the Green Hill Zone. This year, Jemnezmy has done it again with another fantastic Sonic themed cake!
Knuckles' Emerald Shrine from Sonic Adventure's Angel Island is the location of your baked delights this time around, complete with stone staircase and Master Emerald sitting pretty at the very top. Forgive the low quality image, we only had a mobile phone camera to hand.
There were in fact two different sources Jemnezmy referred to for this piece, as the Mystic Ruins is represented in both the past and future in Sonic Adventure. Jem decided to combine both the flowing waters of the past Emerald Shrine with the mossy greens that surround the modern-day Master Emerald.
Although the whole of Angel Island hasn't been represented here (Jem started from the stairs otherwise we'd be seeing a much bigger cake!), what has been imagined here is pretty awesome, don't you agree?
And there'll be a slice for anyone who asks for one at the Summer of Sonic convention! Even though it's a pretty big cake for one (or three!) people, slices are likely to go pretty quickly so once cake is served, be sure to get your slice!