Special Gift: Limited Edition Sonic Art Book
Thursday, August 27th, 2009, 1:05 pm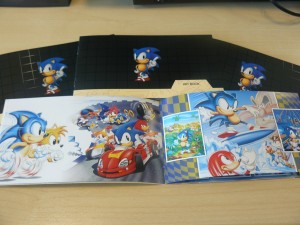 Kevin and I have been thinking of ideas to make this year's Summer of Sonic incredibly special, and with some enormous help SEGA have produced this limited edition art book, that will be handed out to pre-registered attendees to the convention (one book will be handed out per family/group, and until stocks last I'm afraid, so get there early!).
They are designed in the style of a classic Mega Drive manual, with the checkered background and the image of Sonic from the original 1991 game adorning the cover. Inside, you can find countless montages of official SEGASonic artwork throughout the years. There's even a foreword by myself and Kevin in the front, so that's even more of a reason to get one right? You can read more about the booklet at SEGA's Blognik page.
There's only two more days left until the big day! Are you excited yet? Just to give you a bigger idea of what's in store too, we've opened our final page on the website – the 'On Stage' section, which tells you what you can expect to occur on the Main Stage at various times of the day.
~ Svend