Summer of Sonic Tickets
Monday, August 3rd, 2009, 10:04 pm
A lot of you have been wondering where these tickets that you are supposed to get when pre-registering. Well after a few nights of solid work on them, they are done, and will be sent out to you within the next week (hopefully). Here is a little explanation on what you are expecting. Click the image to see it in full size.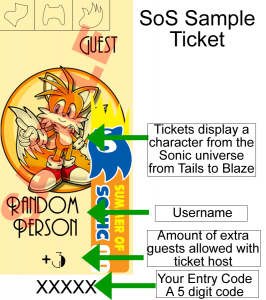 And here are some questions I know will be asked so let's go through 'em:
Q: Do I have to print my ticket?
A: No, but if you don't print your ticket you will need to remember your code (or preferably write it down) because if you forget it, you'll have to go through the registration queue again.
Q: Can I print my ticket in Black & White?
A: Yes Black and White tickets are no problem.
Q: My Character sucks, I want a new one!
A: Characters have been assigned randomly however we can not change them anymore.
Q: I need to change the amount of guests I am bringing, can I do that?
A: Yes, please email summerofsonic[at]googlemail[dot]com with your ticket number and we will see what we can do about getting you a new ticket. This is more important if you need to bring more guests than your ticket says rather than less.
Q: I have not received my ticket, where is it?
A: The earlier you registered the sooner your ticket will be out but all people who registered before August should get their tickets by the 10th, if you do not receive it before then please contact summerofsonic[at]googlemail[dot]com.
Q: What are the symbols for on the top of the tickets?
A: You'll have to come and find out on the day!
We look forward to seeing you on the day.
Shadow Urtheart