New Challenger Approaching!
Monday, July 13th, 2009, 4:28 pm
NOTE: For those wondering when they will get their e-tickets from Advance Registration, you will receive them at the beginning of August.
Just a little teaser to truly kick off our little tidal wave of announcements – our first reveal will be made on this website later tonight. What exactly that is you'll have to wait and see, but needless to say we have a LOT of things that will make SOS 2009 really awesome, so we figure we best start tonight. Those who like to read will be most excited.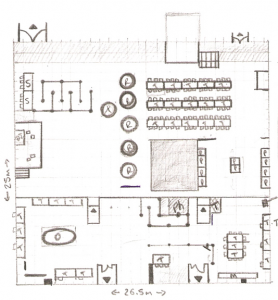 In the meantime, and just to make this update rather interesting, take a look at a draft floorplan scribble I've been working on. Myself, Kevin/ArchAngelUK and main Security bloke for the event Joshua/Urtheart will be visiting the venue again tomorrow to make sure all these measurements add up. Bear in mind that this is a draft and subject to change – I'm showing you this as I figure it would be cool to give you a little peek as to what's being done behind the scenes.

Stick around for tonight's announcement!
~ Svend.