Your Questions/Suggestions Answered!
Friday, July 10th, 2009, 12:27 am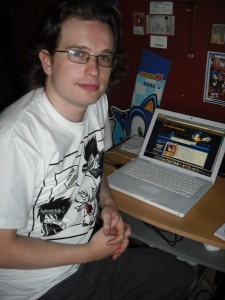 Hey guys! Svend/Dreadknux here, just writing a quick update to answer some questions that have been asked here, there and everywhere.

First of all, sorry for the lack of updates on my part – we've been busy behind the scenes, getting some last minute things prepared! As you can imagine, it's been a bit of a whirlwind trying to organise something like this, on a bigger scale than last year and while taking on board your suggestions to make it better! We've got enough stuff to announce over the next month so we'll be spilling many a bean in regular intervals. Keep an eye out.
I'll also be letting some other members of the SoS team have a say on this blog. At the moment Jemnezmy and myself (Dreadknux) are working on the floorplan alongside preparations for the new and improved Art Corner – stay tuned for an update from Jem about that! Anyway, onto your questions/concerns!
Will the venue be bigger than Summer of Sonic 2008′s?
It will be much bigger. The Truman Brewery's Boiler House is over twice the size of last year's Dragon Hall venue. In fact, I've spent the best part of today drafting a floorplan for the place, and there's lots and lots of room even after taking into account all the stuff I've had to put in it! The Boiler House can fit around 500 people in its walls. And to answer a related question, yes I'm personally making sure there will be many, many chairs in the hall this year.
Is there more than one room at the venue?
Sadly, the Boiler House is one big happy room in itself. There aren't any additional spaces that people can sift in and out of. We didn't intend it to be this way, although I personally think that having more than one room kind of diminishes the nature of a convention anyway. The point, I feel, is that everyone who likes the same thing can kick back with one another. It seems a little strange to have separate rooms for groups of people to enter in such an environment – people may think you're being somewhat anti-social!

What we do have however, is a sizeable outdoor area towards the back of the venue. It would make for a great space for you guys to hang out if you want some fresh air and some food (more on this coming later). Let's hope for some nice, sunny weather!

Will video cameras be allowed?
Of course! We want people to be able to take as many mementos from the event as they can. If you have a really fond memory of this year's Summer of Sonic, we would want you to take that away and keep that forever. Please note however, that certain special guests may be uncomfortable being recorded and having themselves put on Youtube – if we ask the audience to not film a particular part of Stage events I hope you guys will be able to respect this and put down the video cameras until it's cool to play with them again.
Can we buy Sonic merchandise/toys at this year's event?
This was one of the biggest requests we got last year, and I'd love to jump right up and say "Heck yes, here's a truckload of exclusive merch you can purchase!" Unfortunately, owing to licensing restrictions on Sega Europe's part, we can't do an awful lot to introduce merchandise to buy at the event. That doesn't mean we aren't trying though! There are many companies that have a license to produce and sell Sonic the Hedgehog products in the UK, and we're doing our best to have them attend so you can buy some of their wares.
Any chance of voice actors attending?
I can promise you we have a great list of special guests attending, but I'm afraid to say that nobody from the voice acting gang will be able to make the trip this time. The life of a VA is a very busy one indeed! However, we have had a message of goodwill from such actors as Mike Pollock, so who knows what the future may hold for the Summer of Sonic convention.
Rent a bar out so the adults can party too!
We like the way you think! But the Summer of Sonic is for fans of all ages to get together and chat – last year we even had the adult fans get taught a thing or two from some of the youngsters! Renting out a bar on top of what we have as well would really cost us an awful lot regardless. Having said that, once we wrap up there's a good chance we'll want to unwind – if you have nothing better to do in the evening, you're more than welcome to join us.
What time will the event start and finish?
We haven't finalised details yet, but we're looking to kick proceedings off at around 10.30am. Pencil that time down, but be prepared for a slight delay if we've not got everything sorted yet. Sometime around 10.30am to 11am is a good time to think about. In terms of when the event ends, it looks likely that things will round off around 6pm.
Will a Live Stream go online?
Last year it was possible to do a very rudimentary, crude live stream due to the fact Dragon Hall had wireless connectivity. The Boiler House has no such facilities, however we are working on solutions and are trying to get the foundations laid down for a live stream. We don't want anyone unable to attend to miss out!
Hope I'll get a chance to answer any more questions you have very soon! Stay tuned — we'll be revealing a lot more about the event now that it's little over a month and a half away!